We're going head over heels for our 2007 Fest!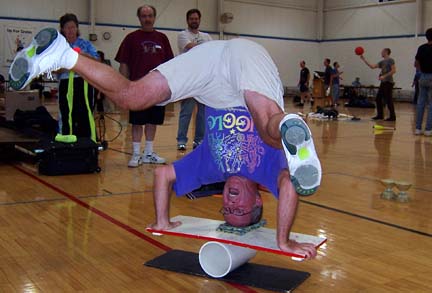 Photo of Terry Kimpling (www.wejuggle2.com) taken by Jim Brennan
Our 2007 fest was October 26-28th, 2007
If you would like to be certain you receive an email with future fest information, please email us and ask to be added to our database.
When was it?
October 26-28th 2007
Where was it?
Our normal home. Guy Prisco Community Center (Fox Valley Park District) in Aurora IL. Directions
Cost?
Zilch, Zero, Nada
What happed?
Lots of Juggling, Public Show, Games, Video Lounge, Party, Juggling Classes, workshops, etc... Here's the complete current schedule.

Public Show:
There was be a FREE public show held in the main gym on Saturday night.
NEW - Hotel Information
Contact our festival coordinator if you have a specific question relating to our 2007 festival.
Checkout what went on at the 2006 Fest Here.